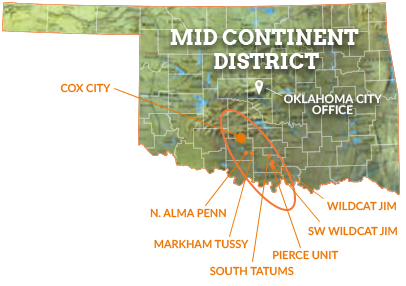 MID CONTINENT DISTRICT
Mack Energy Co. can trace its history back to the early days of oil exploration in Southern Oklahoma starting with lease and royalty buying in Stephens County and surrounding counties. By the 1930's the company was drilling wells throughout the region. Knox Field, Stephens and Grady counties, played a major role in the company's expansion. The field is an elongated, thrusted anticline extending across an area 10 miles long and 2 miles wide. Productive reservoirs range in depth from 400 feet to greater than 19,000 feet and are comprised of Permian-age reservoirs through the Arbuckle formation. Discovered in 1912, the field continues to be developed with new reservoirs and new technology exploiting this giant field. Mack still produces several early wells drilled by T.H. McCasland.

In the 1950's and 60's, the company expanded to the Golden Trend and Northern Oklahoma producing trends as well as Kansas. In 2003, Mack purchased all of Noble Energy's properties in southern Oklahoma. These included the large secondary recovery projects; North Alma Penn Unit (NAPU), South Tatums Sand Unit (STSU) and Wildcat Jim Penn Unit (WJPU), SW Wildcat Jim (DESE) located in Carter and Stephens counties. The company continues to exploit these Units with new reservoirs and new waterflood opportunities.