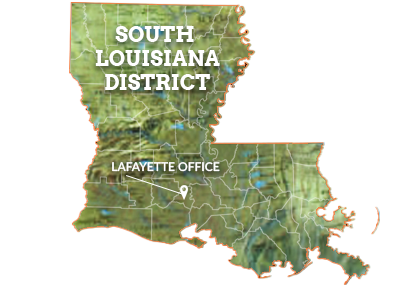 SOUTH LOUISIANA DISTRICT
Mack Energy Co. has been active in the South Louisiana Gulf Coast since 2003 starting with the company's participation in the Bayou Villars Field re-development project. The company now operates the Bayou Villars field in St. Charles Parish as well as additional wells in St. Landry, Vermilion and St. Martin Parishes, plus has non-operated interests in several other fields throughout the region. The South Louisiana producing basin is a strategic exploration focus area for the company in its goal to build accretive reserves and diversify from the mid-Continent region. Starting in 2008 the company has acquired or purchased 3-D seismic across South Louisiana and now has over 2500 square miles of data.
This activity is directed from the company's technical office in Lafayette. Mack drills 1-4 wells per year and will participate in 4-6 additional wells.