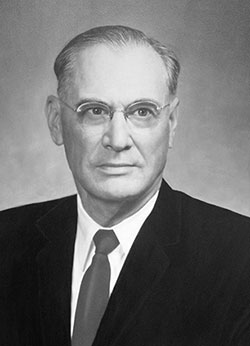 HOW IT ALL BEGAN
Mack Energy Co. is one of the legacy companies derived from the early oil and gas work of Thomas Howard McCasland. Mr. McCasland, or Howard as he was called by his friends, began in the 1920's buying and selling oil and gas leases and royalties from office space over his father's mercantile store in downtown Duncan, Oklahoma. Mr. McCasland drilled his first well in the early 1930's in Stephens County, Oklahoma and in 1945 he created Mack Oil Co., the family-owned legacy oil and gas company. Howard was instrumental in the discovery and development of many oil fields in southern Oklahoma including the giant Carter-Knox Field in Grady and Stephens Counties.
As the operations continued to expand, Mr. McCasland' s holdings grew to include a 10 rig drilling company, Thomas Drilling Co. and a 13 store oilfield supply company, M&M Supply Co. In the 1950's he was joined by his son, T.H. "Tom" McCasland Jr., and son-in-law, Jack A. Maurer, both of whom provided guidance and direction to the growing family enterprise. Tom was instrumental in leading Thomas Drilling Co. to become one of Oklahoma's best contract drilling companies. Jack oversaw Mack Oil Co. as it grew to become a top-ten producer in the State. In 1980, Mack Energy Co. was incorporated as the operating company and both Tom and Jack served as President during its growth.  Other family companies were incorporated to manage the growing assets; South OK Development Co. and Fourgen, L.LC. The company has continued to thrive and operates in Kansas, Oklahoma, Louisiana and North Texas.
In the 1990's, Enerwest Trading Co. was created to buy, sell and transport oil throughout southern Oklahoma and the Mid-Continent. Enerwest Trading Co. is now recognized as one of the largest oil trading companies in the region.
In 2005, Mack Energy Co. opened an exploration office in Lafayette, Louisiana.  The company's assets are managed from offices in Oklahoma City, OK and Lafayette, LA.
Although Thomas Drilling Co. and M&M Supply Co have been divested in recent years, the heirs of Mr. McCasland continue his legacy and pioneering spirit through their involvement in the remaining family owned energy-related enterprises. The family remains steadfast in their belief in the strength of the American energy industry and look forward to a bright future.